locally sourced food.
Award winning beer.
The Free Press is a traditional backstreet public house within walking distance of the heart of Cambridge.
We offer locally sourced quality produce, evolving seasonal menus and an extensive selection of award winning beers and ales in comfortable and welcoming surroundings.
In the winter, we have large open fires and a cosy snug area, while in the summer months we serve outdoors in our courtyard garden.
We are dog friendly.
OUR HISTORY
The Free Press was first licensed in 1834 when a home brewer Sarah Horne opened up her cottage to serve her very own home brew. Just as she was setting up shop, the teetotal movement launched a paper called 'The Free Press' to campaign against drinking. Sarah named her pub after the paper in irony - The paper lasted just one issue, the pub nearly two centuries.
The pub has been lovingly restored since then and is still home to many original features – the handpumps we use today date back to the 1940's and the Snug hasn't changed since it once held 59 Downing College students. The walls are filled with history from the locals and students that have visited over the years – in the main bar hangs the bow of the Cambridge boat destroyed in the 1984 boat race.
And of course, we still pay homage to the 'The Free Press' paper with printing trays that store all of our customers keep sakes. Feel free to add to our pub's history with your own stories.
Phone
01223 368337
Location
7 Prospect Row
Cambridge
CB1 1DU
Hours
Bar
M-Th 12–11pm
F-Sa 12pm–12am
Su 12–11pm
Kitchen
M-F 12–2pm & 6-9pm
Sa 12 - 4pm & 6-9pm
Su 12–4pm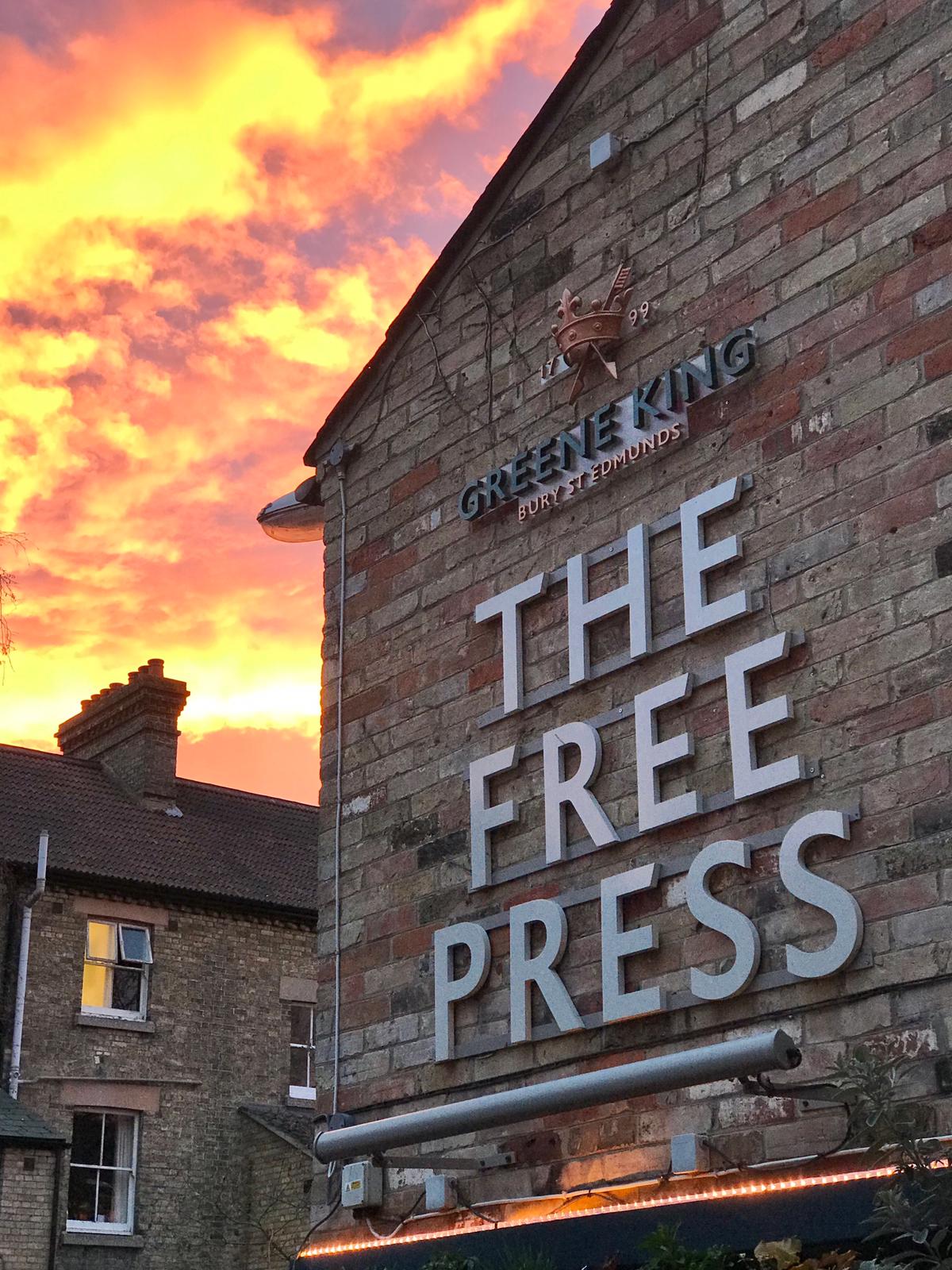 We take lunch and dinner reservations
For same day bookings please contact us on 01223 368 337.
Please note that during busy periods we may not be able to answer the phone.
For advance bookings please email us on contact@freepresscambridge.com.
CHRISTMAS AT THE FREE PRESS
Festive menu available for pre booking only
20th November - 23rd December
2 courses - £22 3 courses - £26
Please get in touch for a copy of menu or pop in & see us